In my 30 years of boating and attending boat shows, these are the biggest boat buying mistakes people make.
BUYING TOO BIG OF A BOAT
It's easy to get caught up in the "bigger is better" mentality when looking for a boat.  Large boats require more horsepower (often twin or triple motors), they require more systems, require deeper water and they cost significantly more.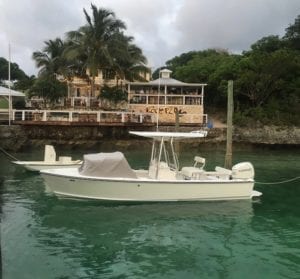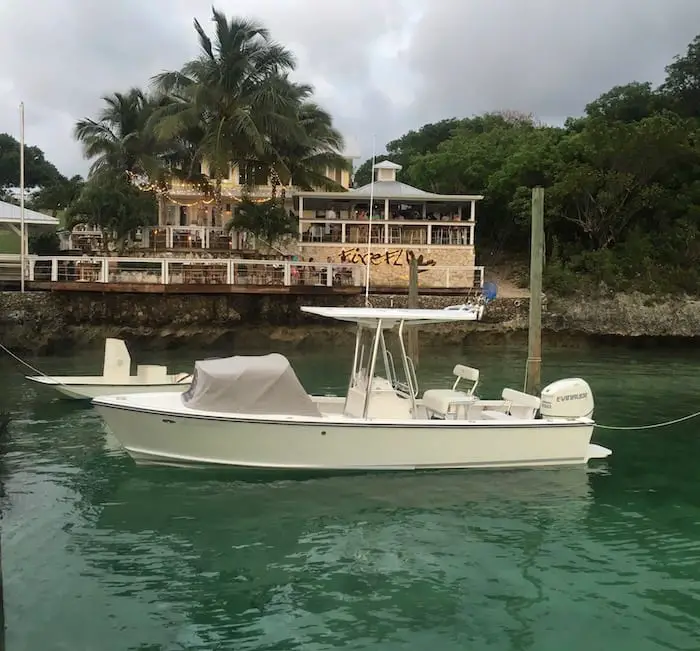 Most people want to spend their time on the water with family or friends, cruising the bay, visiting sandbars, occasionally fishing, and eating at waterfront restaurants. Consequently, a big boat is not necessary.  The ideal boat for "all-around" boating in Florida is, typically, a 22′ center console with a single outboard motor (like the one pictured above).
VIEW THE "BEST BOATS FOR FLORIDA" HERE
THAT CABIN IS OFTEN UNNECESSARY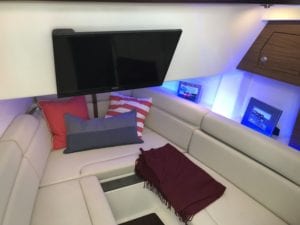 Unless you plan to do a ton of overnighting on the boat and the cabin has air conditioning (especially in Florida) it usually makes no sense to own a boat with a cabin.  Once again, most people use their boat to casually cruise, entertain, fish and visit sandbars.  Having the entire front of the boat occupied by a cabin that nobody wants to use because it's too hot, invites sea sickness and is a big storage compartment is a waste of space — space that would be much better used by lounge seats for entertaining, coolers for beverages, walk-around space for fishing and ease of anchoring when visiting the sandbar.
CLICK HERE FOR 10 TIPS TO MAKE YOUR BOATING BETTER
THE BOAT RARELY GETS USED
This should probably be number one on the list.  If I had a dollar for every boat that I know that sits on a lift and rarely gets used I'd be a wealthy man.  Unfortunately, many people buy their boats with no forethought or experience and never wind up using them. Not only is it a shame to rarely use a boat but it's also bad for the boat!  Boat motors require regular usage.  Boats that sit for long periods of time (months) often develop mechanical problems that could've been avoided had the boat been used.
REAL WORLD VS. BOAT SHOW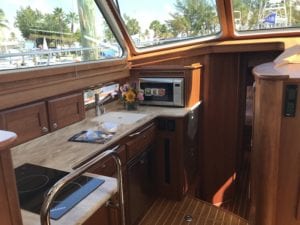 This is so true!  I've visited dozens of shows in my life and at every one of them I see people enamored by new-smelling, climate-controlled, luxurious cabins decorated with pictures, plants and accessories that look so home-like.  Rest assured, when then the boat is underway the reality is much different. Between potential motion sickness in the cabin, moisture and humidity in the cabin and odor emitted from the marine head, a boat underway is vastly different than one at a boat show.
CLICK HERE TO FIND OUT HOW TO FIND YOUR OWN PRIVATE BEACH
NOT UNDERSTANDING THE TRUE COST OF OWNERSHIP
A great rule of thumb is that a boat will cost you approximately 10% of the purchase price in annual expenses (20% if the boat is financed).  Think about that – if you buy a $100,000 boat (common for today's new 23' boat) you can expect to spend $10,000-$20,000 each year to maintain it. The costs associated with ownership are dockage, fuel, scheduled maintenance, unscheduled maintenance, insurance, etc.  Imagine buying a 60' Viking! Yikes!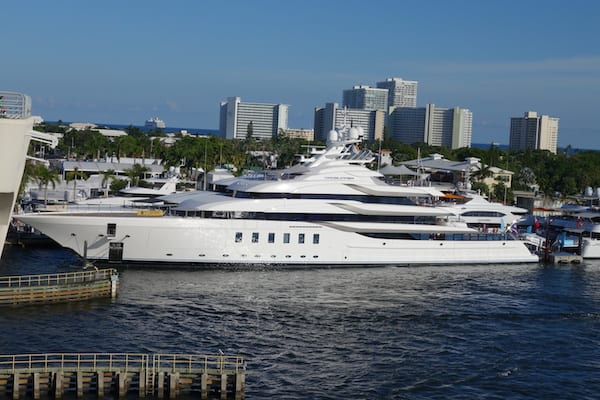 FINANCING FOR TOO LONG
It's so appealing to see such a low monthly payment for such a sweet boat!  Don't get sucked in.  Be smart. It is financial suicide to buy an expensive boat, put 10% down and finance it over ten years or more.  Boat are depreciating assets and luxury items at that!  If the economy slows down usually, the first things to go are luxury items and boats classify as such.  It's much wiser to pay cash or put down significantly more than 10% and finance it over a shorter term if possible.  Also, buy used when appropriate.
BUYING AN I/O FOR SALTWATER USE
Buying boats with inboard/outboard motors (I/O for short) for use in a salt water environment isn't recommended. I/O motors are motors that classify between an "outboard" motor and an "inboard" motor.  As a result, they have a significant portion of their running gear constantly under water.  In a fresh water environment, where these boats are commonly found, it's ok, however, a salt water environment is much harsher and consequently, more detrimental.  It's best to have outboard motors or true, inboard engines for salt water.
CLICK HERE TO SEE SOME GREAT BOATS TO BUY USED
BUYING A BOAT THAT'S UNDERPOWERED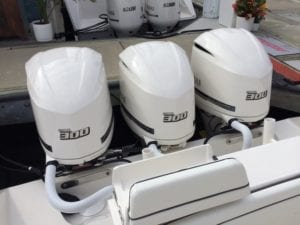 Just because a certain boat has a certain motor bolted to its transom doesn't mean it's the correct motor.  It's important to match the correct horsepower with the boat. In many cases, boats are sold with less-than-optimal motors. These motors may be sufficient and fuel-efficient but lack the ideal power for the boat.  One of the problems of buying a boat that's underpowered is it winds up placing too much stress on the motor(s), resulting in possible damage, and can actually cost more in fuel expense.  Quite often, upgrading the horsepower creates less strain on the motor(s) and can help conserve fuel.  In addition, having extra horsepower can make it easier to get on plane when you have extra weight in the boat.
BUYING A BRAND-NEW BOAT FOR YOUR FIRST BOAT
It rarely makes sense for someone who's new to boating to purchase their first boat as a brand new one.  For starters, it often takes time to know what kind of boating you'll do and figuring that out on a less expensive boat is always smarter than on an expensive one. Also, it's much better to work your way up if you need to instead of spending way too much money for too much boat straight out of the gate.  One exception to this would be if you've been a member of a boat club and you already know the kind of boating that you like.
I utilize the service and benefits of Boat U.S.  They are a great organization that every boater should consider. You should too.  Click HERE to learn more.