I've had a lot of experience at the helm of a boat and I've also experienced many different situations.  These are my top 10 tips to make your boating better.
#1 ALWAYS APPROACH SLOWLY WHEN DOCKING
Time and time again I see people putting themselves, their boats, and others at risk unnecessarily.  Docking a boat is a simple procedure that rarely goes bad as long as you go slow.  Problems arise when panic sets in and the captain's reaction is to "gun it".  Never a good idea! Always take your time when docking and go slow enough so even if you bump another boat or the dock it won't cause any concern.  In fact, moving the throttle in and out of gear is, often, all you need to do.
#2 HEAD INTO THE CURRENT OR WIND (WHICHEVER IS STRONGER) WHEN DOCKING
Another important thing to remember is to always head into the current or wind (whichever is stronger). That will give the boat more control at a slow speed.  NEVER dock in same direction as a strong current unless it's unavoidable.
LEARN ABOUT THE BEST BOATS FOR FLORIDA HERE
#3 BECOME FAMILIAR WITH THE TERMS "PORT" AND "STARBOARD"
For the new boater, "Port" and "Starboard" are difficult terms to remember.  Yet, they are so widely used, it's essential to know them.  An easy way I remember the two is by the simple phrase; "You left port" (i.e. port is to your left when looking forward from the helm).  You "left port" means port is to the left.
The other confusing aspect is what color they represent?  For that I think about red wine — specifically, port.  Port is red!  This is very important to understand when boating in the dark because it'll provide orientation and clarity as to the direction of other boats.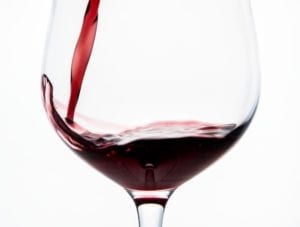 #4 UNDERSTAND HOW TO NAVIGATE CHANNEL MARKERS
Ever since I was a small boy I remember the term "red, right, returning from ocean" and that term has helped me out a lot when I navigated unfamiliar areas.  The key thing to understand is you keep the red buoy to your right when returning from an open body of water or when you're traveling the intracoastal waterway clockwise around Florida (red to the right when heading south on the east coast and red to the right when heading north on the gulf coast).
HELPFUL TIP: How do you know if you're in the intracoastal waterway?  Because you'll see tiny, yellow squares or triangles on the channel markers themselves.

LEARN HOW TO DRIVE A BOAT WITH CONFIDENCE (ONLINE COURSE)
#5 ALWAYS USE CHAIN ON YOUR ANCHOR LINE
Every anchor should utilize a certain length of chain to properly work.  A section of chain helps keep the anchor weighted and dragging along the bottom so it can set correctly.  Even small, stern anchors at the sandbar should utilize chain.  Anchors without chain tend to pull easily.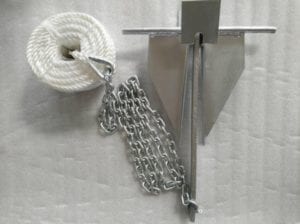 #6 DON'T RELY ON GPS
It's so hard nowadays NOT to rely on GPS because it's everywhere.  As a result, many boaters wouldn't know what to do if their chartplotter stopped working.
When I used to pilot Coast Guard boats several years ago, we always had a navigator backing-up the GPS by plotting our course and "dead-reckoning" our position.  We had to do it because lives depended on us.  However, that's overkill for the majority of pleasure-boaters. That being said, having a basic understanding of where you are and how you'd get home if your GPS failed could save the day.
Utilizing a paper chart and a compass can go a long way to help.  At a minimum, you should make a mental note of your compass heading — especially, when you're headed far offshore.
HELPFUL TIP: Mark your position when you're outside the beginning of the entrance/channel to an inlet or pass.  This will allow you to navigate back to the inlet or pass in deep water.  Not doing this can create a course back to the inlet that traverses shoals or sandbars and subsequently, wreck your day.
#7 UNDERSTAND THE PROPER WAY TO HANDLE A "CROSSING" SITUATION
One of the most basic rules is what to do during a crossing situation?     The answer is you should pass behind the boat crossing you from the right.    See the example below.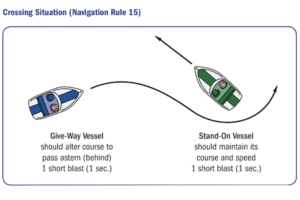 FOR A GREAT BOOK ABOUT BOAT NAVIGATION CLICK HERE
FOR A COPY OF THE USCG NAVIGATION RULES CLICK HERE
#8 KNOW THE PROPER WAY TO SIGNAL WHEN OVERTAKING
I know this is overkill and very few people are aware of this but it's important to understand this rule.  Where it can be helpful is if you're in a crowded, no-wake zone and you want to pass a slower boat.  The slower boat doesn't seem to be paying attention and probably doesn't know you're there.  In this situation it's good to know the proper rule to follow.
When overtaking/passing on the starboard side (right side) sound one short blast from your horn.
When overtaking/passing on the port side (left side — remember you "left port") sound two short blasts from your horn.
Technically, the boat being overtaken should make the same sound back to acknowledge but don't hold your breath.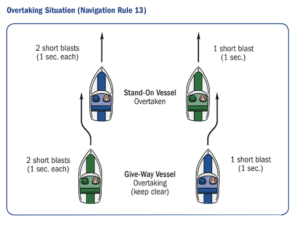 #9 ALWAYS WEAR POLARIZED SUNGLASSES
The best tool on a boat is your eyesight.  One way to enhance it is to wear polarized sunglasses. Polarized sunglasses help reduce the sunlight glare in the water, allowing you to see through the water much better.  Consequently, utilizing polarized sunglasses allows you to see sandbars, grass beds and channels easier and helps you stay in safer water.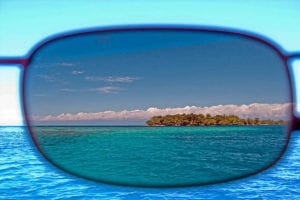 #10 UNDERSTAND THE BASIC VHF CHANNELS TO USE
The average boater should know a few basic channels on the VHF.  This is because the VHF radio is your link to the Coast Guard when your cell phone won't work.  VHF channel 16 can also notify you of emergencies, hazards to navigation or missing boats.  Here are a few important channels and when to use them.
Channel 16: Monitor this regularly and only use it to hail the CG
Channel 22A: This is a Coast Guard channel that they normally switch to after being hailed.
Channel 09: Used to communicate with bridges for openings
Channels 68, 69, 71, 78A: Public use channels for communicating between boats.
I hope these 10 tips are helpful to you and make your time on the water safer and more enjoyable.
If you would like to improved your boating skills consider taking my new, digital course titled "How to Drive a Boat with Confidence". 
Click HERE to Access the Course