#1 ACCESS TO A BOAT OR KAYAK
Access to a boat makes getting away from the crowd SO much easier!  However, boats are expensive so, not everyone can afford one. I understand that.  That is why I have a few suggestions that will help just about anyone.
The first suggestion is rent or buy some kayak's.  Even though they aren't big boats they can still get you to amazing beaches, In fact, many of the beaches that you can reach by kayak are even more secluded!  Buy used kayak's to save even more money!
My second suggestion is rent a boat for the day or join a boat club to "test the waters".  Both of these options provide a low-cost entry into boating and will certainly accomplish your goal of finding that special beach.
CLICK HERE TO SEE THE BEST BOATS FOR FLORIDA
My third suggestion is to buy a small, used boat.  I'm a classic Boston Whaler guy so I'm partial to those boats.  Purchasing a 1986-1998 17′ Montauk or a 1982-1994 Sport 15′ would be ideal. In addition, old Carolina Skiff's make great used boats as well.
Pricing on these (with a brand new motor) would be under $20,000 and if the existing motor is in good condition you'd spend even less!  I purchased my first Sport 15 for $3000 and then re-powered it for $7000 and bought a new trailer and canvas for an "all-in" price of $13,000.  Sold it five years later for the same amount. Not bad! (Pic Below). That's one of the main reasons classic Boston Whalers are awesome used boats; they hold their value well.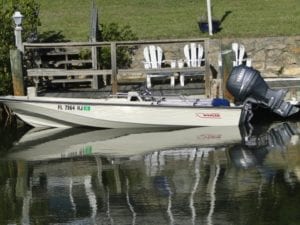 CLICK TO SEE WHY A CLASSIC BOSTON WHALER OUTRAGE IS ONE OF THE BEST USED BOATS EVER
#2 DON'T FOLLOW THE HERD
I know it sounds obvious but if you want to spend time on a beach without a lot of people then don't follow the people. Look for other alternatives and research maps and even read TripAdvisor for reviews and advice.  That leads me to #3…
#3 USE GOOGLE MAPS
I have used Google Maps to find so many amazing spots.  The key is view the map in "satellite" mode.  It's a great way to view small waterways, beaches and convenient access points.
#4 UTILIZE OUR PARK SYSTEM
Florida's State Park system is amazing!  Although not expensive, the fact that it costs money to access most parks deters some visitors.  Their loss is your gain.  I've visited many parks through Lazy Locations and found that all of them were fantastic for finding your own private beach.
CLICK HERE TO SEE A GREAT EXAMPLE OF A STATE PARK BEACH
#5 FOLLOW LAZY LOCATIONS
Of course, the easiest way to keep up on lesser know beaches or great boating spots is to subscribe to this site!  That way you can be informed on everything; including immersive videos and resources to help you out.
BOAT U.S. A GREAT ORGANIZATION THAT WILL HELP YOU BECOME A BETTER BOATER WHILE PROVIDING PEACE OF MIND ON THE WATER