Jupiter is a beautiful place to visit by boat and Burt Reynolds Park is the most convenient ramp to use.  Here's some information to help you learn more about it.
LOCATION
Burt Reynolds Park is located in the heart of Jupiter and at the intersection of the ICW, Loxahatchee River and Jupiter Inlet.  From the ramp, you have easy access to the four main sandbars in the area; the Loxahatchee Sandbar, Jupiter Lighthouse Beach, Jupiter Sandbar and Cable Crossing Beach.  In addition, ocean access and fantastic restaurants are all within a 15 minute trip.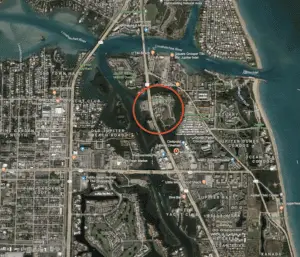 VISIT THIS GREAT BEACH TO THE NORTH
RAMP
The park consists of two different ramps.  One is to the east of US1 and the other is to the west.  I usually choose to use the ramp to the east because it has much more parking and more amenities.  I've used the ramp on three different occasions (including weekends) and I've never had difficulty finding parking or waiting to load or unload.  The ramp is pretty steep but has great traction and great staging docks.  Also, the ramp is located on a quiet creek so it's never rough.  There is also an area to launch a kayak or SUP on both sides.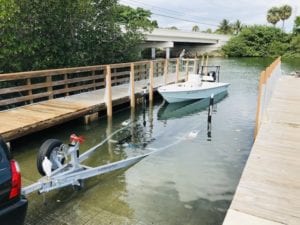 HOW TO KEEP YOUR BOAT AT A TYPICAL HOTEL
PARKING
The cost to park is $10 per day and unlike many ramps I've visited, the parking meter is located at the ramp for great convenience. You can purchase an annual parking pass for $35 but I'm not sure if it's restricted to residents only.  The East  ramp has four ramp lanes and 76 parking spaces.   The west ramp has two ramp lanes and 43 parking spaces.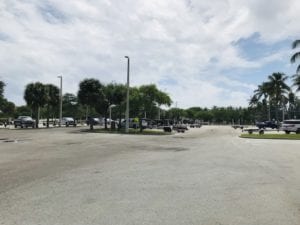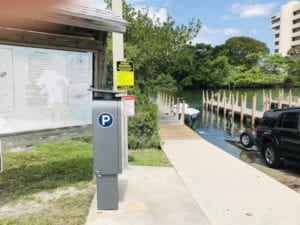 AMENITIES
Each side has a nice restroom and the east side has a fish cleaning station, sand volleyball court, picnic pavilions and a playground.  
TRAILER RINSE TIP
I discovered a trick to find water to wash off your trailer after retrieving your boat.  Use the hose at the fish cleaning station to fill an empty jug or two for rinsing your rig.  It's super convenient and your trailer hubs and components will thank you.
CLICK HERE TO LEARN MORE ABOUT HOW I RINSE MY TRAILER AT EVERY RAMP
Consider Boat U.S. for your boating needs.  They are a great organization that provides numerous resources to improve your life on the water AND trailering your boat.  Click HERE for more information.