WILL THE BOAT REMAIN IN-WATER OR ON THE TRAILER WHEN NOT IN USE?
This is the first question you'll need to ask.  It's important because it will determine what you need to look for in your hotel.
USING A RAMP DAILY: I frequently use FWC's "Boat Ramp Finder" (Click HERE to visit the site).  Use it to locate ramps that are closest to your hotel. Does the ramp have ample trailer parking?  Does it have water for your trailer rinse?  Is it busy?  Come prepared with your own jug (or two) of water to splash on your trailer hubs, wheels and other parts susceptible to corrosion.  Make sure to rinse it off as soon as you park the trailer after launching.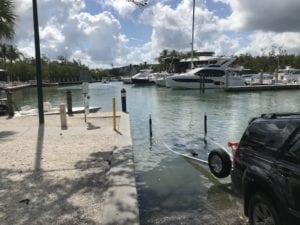 HERE'S A BOAT-FRIENDLY HOTEL IN THE JUPITER AREA
KEEPING THE BOAT DOCKED: Some hotels have their own marina.  That's an ideal situation and is often, the best option but that still requires planning.  Does the dock have water?  Electricity? Security?  How about trailer security and storage while not in use?  Will you have to launch at a nearby public ramp or private ramp?  Will the ramp be busy when you need it?  How far away is the ramp?  Do you know how to navigate back to the hotel by boat?  Once the boat is launched, who will drive the car & trailer back to the hotel?  Try and find a hotel that's within walking distance to the ramp if you can.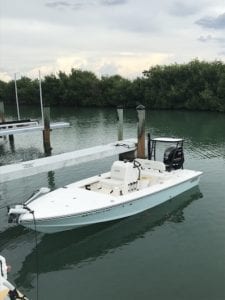 USE GOOGLE MAPS TO MAKE SURE THE HOTEL HAS AMPLE PARKING SPACE
As you know by now, I'm a big fan of Google Maps.  Not only do I use it to locate great beaches and sandbars to visit but I frequently use when choosing a hotel that might be boat-friendly.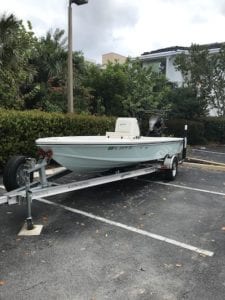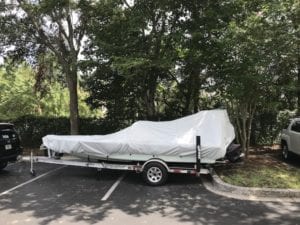 I look for a large parking lot so my boat and trailer have minimal impact on other guests.  Once I'm there, I always lock the trailer (tongue and wheel) and try to park it under a light and in a corner so I can block it with my car at night.  Also, will I have access to a water hose?  Will I need my cover because of trees and falling leaves, pollen or bird droppings? Also, is there a power outlet nearby? It's a good idea to bring an extension cord just in case. 
HOTELSCOMBINED.COM IS A GREAT TOOL FOR FINDING YOUR HOTEL AND THE BEST RATES.  IT'S WHAT I USE!
USE A LOCAL MARINA?
Sometimes, the best and easiest option is to stay at whatever hotel you want and keep your boat and trailer at a local marina.  In Sarasota, I found a local marina (Siesta Key Marina) that will do that for guests. It's a great option and helps to minimize the hassles of daily launching, trailer storage and security.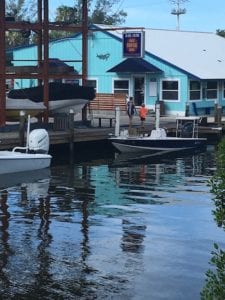 FOLLOW LAZY LOCATIONS
I constantly research and find boat-friendly hotels for my out-of-town location visits.  As a result, I have built my own database of boat-friendly, places to stay in order to give you a head-start.  Subscribe to my page for updates and check back frequently for the latest information.  Eventually, I'll create a list of specific boat-friendly hotels.
I utilize the service and benefits of Boat U.S.  They are a great organization that every boater should consider. You should too.  Click HERE to learn more.