Florida has some of the best beaches in the world and a few are ideal for sunbathing naked. The key is finding isolation, and the best way to do that is to visit during the week and/or by boat.
HAULOVER BEACH
Located in Dade County, Haulover Beach is one of two official "clothing optional" beaches in Florida. In fact, it's mentioned in many top 10 lists worldwide. There are two primary reasons.  Number one, you won't get in trouble.  Number two, it's beautiful!  The section of the beach that's clothing optional is a half mile section of beach that is north of the Haulover Inlet. It's the most acceptable beach for sunbathing naked. Also, don't forget good suntan lotion!
SOUTH BEACH
South Beach in Miami is a beach where women frequently go topless. The beach is beautiful and has a strong international feel. That being said, it doesn't mean everyone is always topless. According to @miami_topless_beaches, "Most of the time it's a question of "who's going first? After that, many take the plunge." It's a fantastic place to visit and the trifecta of a tropical setting, a topless beach and epic night life is a great mix.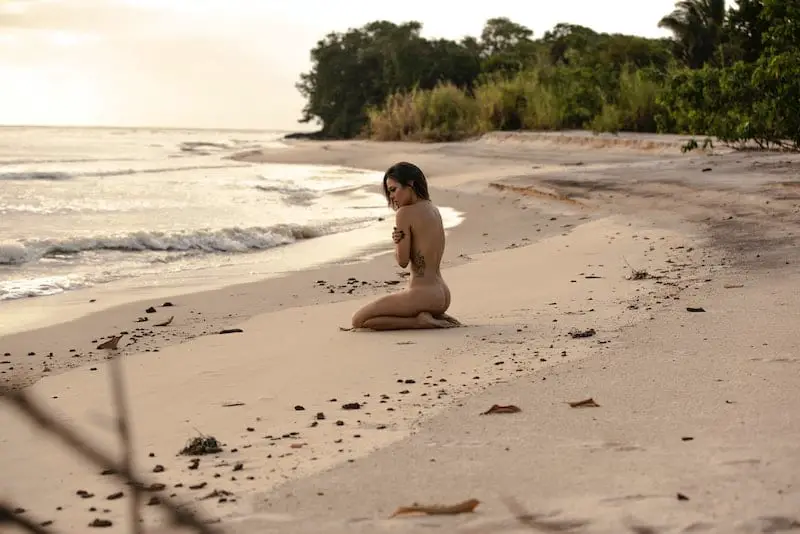 CAYO COSTA (BOAT)
Cayo Costa is a nine-mile stretch of island and is located south of Boca Grande and north of Sanibel on the West Coast of Florida. It's a fabulous place to visit and is home to Cayo Costa State Park. The southern part of the island is a popular spot for sunbathing naked because it's away from the park and more isolated. That being said, it's a popular area, especially during the weekend. Therefore, your best bet is to visit during the week and be respectful of others.
CLICK HERE FOR MORE INFO ON BEAUTIFUL CAYO COSTA BEACH
PLAYALINDA BEACH
Playalinda Beach is the southernmost beach before Cape Canaveral. This beach is popular with nude sunbathers and is generally isolated (unless there's a rocket launch). The clothing optional section of Playalinda can be found at access #13. This section of Canaveral National Seashore is accessed from the south, through Titusville.
BLIND CREEK BEACH
As of 2020, a section of this beach is now officially recognized as a nude beach by St. Lucie County. Blind Creek Beach is located just north of the St. Lucie Nuclear Power Plant on Hutchinson Island. Besides Haulover, it's the only other official Florida beach for sunbathing naked.
VINCENT ISLAND (BOAT)
Located just south of Cape San Blas, St. Vincent Island is only accessible by boat and is a huge island with no development. Consequently, it's a wonderful place to find your own private beach and sunbathe naked if you wish.

PASSAGE KEY (BOAT)
This is a beautiful island with crystal clear water. It's located at the mouth of Tampa Bay, just south of Egmont Key. This "naked island" is only accessible by boat and it's fully acceptable to sunbathe naked. It's also a very popular place during the weekends when most visitors are clothed. Despite that, there's always a contingent of fully naked boaters and sunbathers on the northwestern side. The best time to visit Passage Key is during the week.
THE BEST FLORIDA BEACHES FOR CRYSTAL CLEAR WATER
KEEWAYDIN ISLAND (BOAT)
Keewaydin Island is another one of many incredible islands on the West Coast of Florida. The sandbar at its' southern end gets all the attention and is a popular tourist location. In addition, the island also has a number of private homes along its' shoreline. The best way to sunbathe naked is to find a long, undeveloped, isolated stretch of beach and anchor your boat a few yards off. That way you can swim or sunbathe and have easy access to come and go as you please.
SOUTHERNMOST BEACH
This small beach called "South Beach" is located in Key West next to the Southernmost Hotel. It is a popular topless beach and also has a waterfront restaurant and bar. Key West is one of my favorite places and is one of the most-quaint beach towns in Florida.
APOLLO BEACH
Apollo Beach is located in Canaveral National Seashore north of Cape Canaveral. Lot 5 is the portion that's unofficially designated as "clothing optional". It's a beautiful beach and one of the longest stretches of pristine beach on the East Coast of Florida.
Click Here to Search for Vacation Homes to Rent in These Areas