Beer Can Island Sandbar
Longboat Key, FL
Beer Can Island sandbar on Longboat Key is one of best places to take your boat and spend the day.
BEACH
The beach at Beer Can Island sandbar is located at the northern tip of Longboat Key and is situated directly on Longboat Pass.  It's a beach that's morphed into a sandbar as you move inside the pass.  The location is known for it's white, soft sand and beautiful water and is very popular on the weekends.
HERES ANOTHER SPECTACULAR PLACE NEARBY
LOCATION
Beer Can Island Sandbar is located on the southern side of Longboat Pass and consists of an area of shoreline that wraps around the SE corner of Longboat Pass.  There are tidal pools and shallow water inside the pass and deeper water as you move out the Pass.  Beer Can Island also has a floating water park that is usually anchored just off the beach during Summer weekends.  It's called "Fun Life" and you can see its Instagram page HERE.  It's great for kids and private parties!
10 TIPS TO MAKE YOUR BOATING BETTER
THE BRIDGE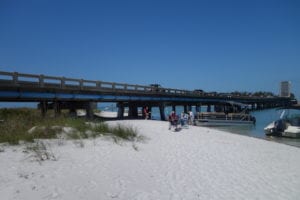 The most coveted spot at Beer Can is under the bridge or as close to the bridge as possible.  Unique to this area is the causeway that shuffles cars over Longboat Pass; it offers great shade and weather protection!  It's a nice surprise amenity to an already awesome place.
THESE ARE THE PERFECT WATER FLOATS FOR THE SANDBAR
HOW TO ACCESS
The easiest way to access the area is by using one of the three nearby ramps on Coquina Island/Bradenton Beach.  The area is also well marked so navigation isn't a problem.  Make sure to wear your polarized sunglasses to see where the deeper channels are.
UPDATE!
As of June 2022 this section of Beer Can Island is now a swim-only zone. Therefore, boaters can no longer beach their boats here. More information can be found by clicking this link.
I utilize the service and benefits of Boat U.S.  They are a great organization that every boater should consider. You should too.  Click HERE to learn more.
LAT/LONG:
27.29'10"N 82.56'41"W
SETTING:
Secluded Beach Located on the Pass
SAND:
Clean, Soft Sand
BEST SPOT TO ANCHOR/BEACH:
On the Southeast Corner of the Pass Near the Bridge
NEARBY RAMP:
Coquina Beach Boat Ramp (South)
CURRENT:
Weak on Inside of Pass and Strong on Outside of Pass
DEPTH:
Shoreline that Rapidly Drops Off
WAVES/WAKES:
Calm but Can Experience Small Swells Along Pass if Strong West Wind
FAMILY FRIENDLY:
Yes but Also Party Crowd
WATER CLARITY:
Very Clear
SETTING:
Secluded Beach
RESTAURANTS NEARBY:
Mar Vista, Bridge Tender Inn
NEARBY HOTELS:
Casa Del Mar on Longboat Key
Waterline Marina & Resort on Anna Maria Island
Click on the 360 Video below for an immersive look at this location
If using a mobile device use the YouTube app for the optimal experience