Today, new center console boats are more expensive than ever. Part of this is due to COVID and the other is simply because people realize the numerous benefits of boating. This post details the top 10 center console boats that won't break the bank.
The boats listed are based on the respective manufacturer websites, specifically the "build your boat" pages. All the boats shown had to have real pricing under $60,000 and MSRP pricing below $75,000.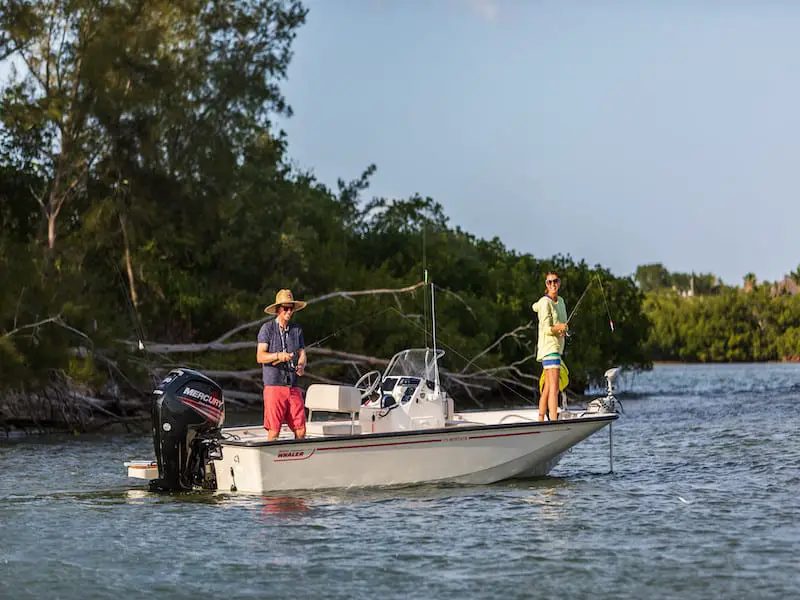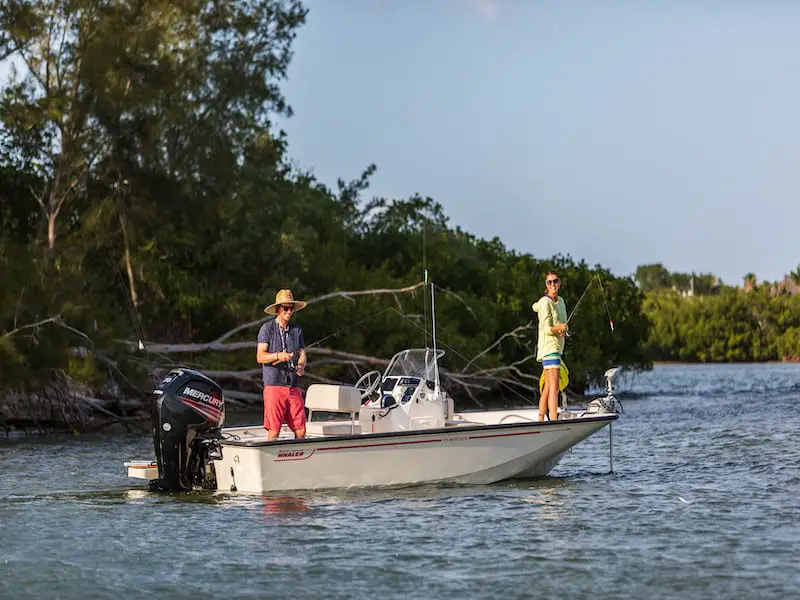 BOSTON WHALER MONTAUK 170
Of all the boats on this list, the Boston Whaler Montauk 170 is probably the highest quality and certainly is the most iconic brand. What makes this boat so special is its' simplicity, top-notch build quality, and unsinkable hull. A fully loaded boat comes in at well under $60,000 and includes a galvanized trailer. Of course, this is also the smallest boat on this list.
SPORTSMAN MASTER 207
Ever since I saw a Sportsman at my local boat ramp a few years ago, I've been a big fan. The "Masters" series is their bay boat model and the Masters 207 is the smallest boat in the lineup. This center console boat is loaded with high-quality components and includes a Yamaha 150 four-stroke bolted on the transom. Also, I priced this with other great options including underwater lights, an Edson steering wheel, full electronics, and a JL Audio stereo.
LEARN HOW TO DRIVE A BOAT WITH CONFIDENCE
SEA HUNT BX 22 BR
Sea Hunt makes a high-quality boat that doesn't break the bank. The Sea Hunt Ultra BX22BR is the perfect all-around boat for most people's needs. This boat has great lines and comes standard with fantastic features. Also, the boat I built online includes a fiberglass hardtop and upgraded Yamaha power.
HEWES REDFISHER 18
I'm very knowledgeable about this boat because it was the "Lazy Locations" boat for two years. I love the Hewes Redfisher 18. This boat has one of the best rides of any skiff but feels like a small center console. It's also big enough to be family-friendly (4 persons max). A fully loaded Redfisher 18, including a custom trailer, comes in at under $60,000. This is the perfect boat if you love to fish the shallow water, like to visit the sandbars, and want a boat you can store in the garage.
PATHFINDER 20 TRS
The Pathfinder 20 TRS is the smallest boat in the Pathfinder lineup but it's also one of the most versatile. The small size of the Pathfinder means it's easier to store and looks better with a bimini top instead of a t-top. That allows for it to go under smaller bridges and possibly fit in taller garages also. The "TRS" stands for "Third Row Seating", which is an excellent feature on a 20-foot boat. To buy this boat under $60,000 I had to eliminate the custom boat trailer.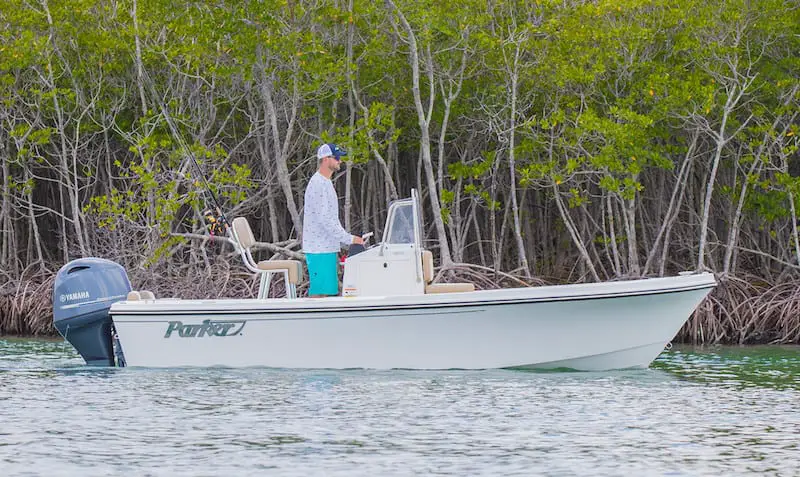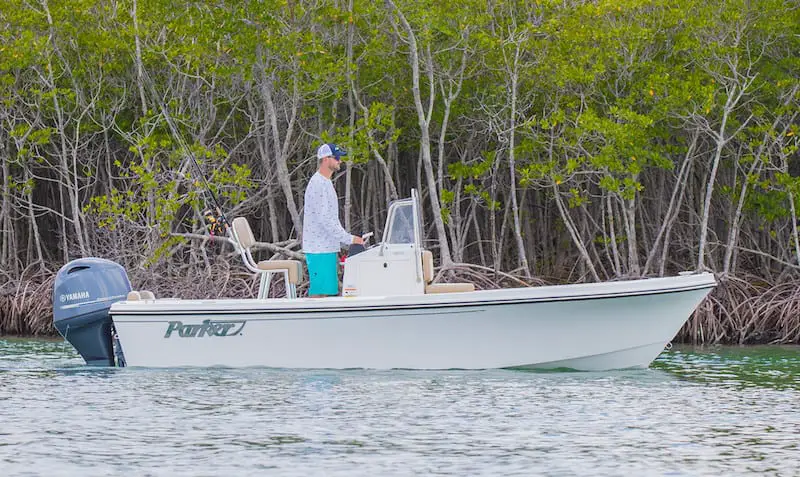 PARKER 1801 CC
I love the simplicity of the Parker boats. While not super luxurious, Parker's are high-quality boats with a ten-year warranty. The 1801 CC is a great all-around, center console boat that provides all the benefits of this brand but in a smaller, simple package that makes it easy to trailer, drive and store.
SCOUT 195 SPORTFISH
Scout Boats are some of the most popular boats on the water. Their quality and good looks are big reasons. The Scout 195 Sportfish model is one of their smallest boats but it's big on features. It's also a perfect boat to get you on the water without breaking the bank. I spec'd this model with a t-top, stereo, trim tabs, and upgraded Yamaha power.
COBIA 220 CC
As a boat brand owned by Maverick Boat Group, the Cobia 220 CC is a great all-around boat with a solid corporate backing. The quality of the new Cobia's is just like Maverick, Pathfinder, and Hewes. The best part is a well-appointed Cobia 22 comes in at under $60k.
THE TOP 5 CENTER CONSOLES OVER 40 FEET
ROBALO 206 CAYMAN
In my opinion, this is one of the nicer center console boats in the Robalo lineup. The 206 Cayman is a versatile boat that does what most boaters want to do, fish, family, and enjoy the sandbar. I built this boat online with loaded options, including a bimini top and a dual axle aluminum trailer. This appears to be a great value for under $60k.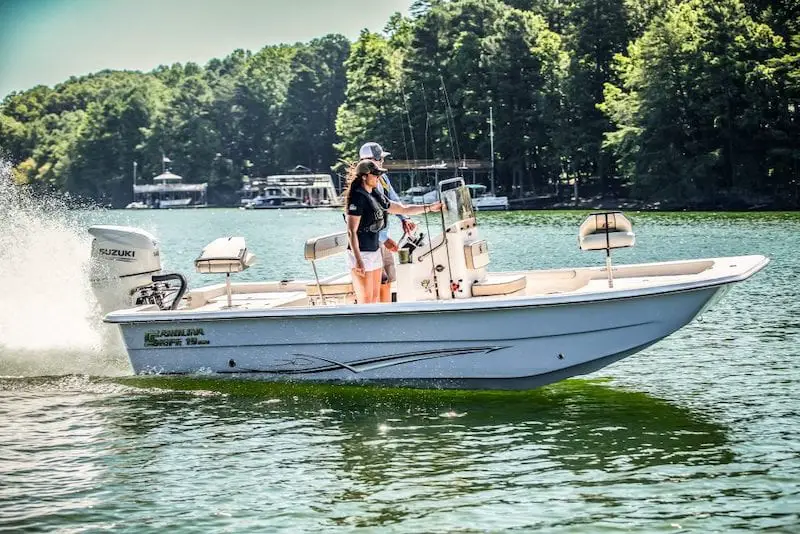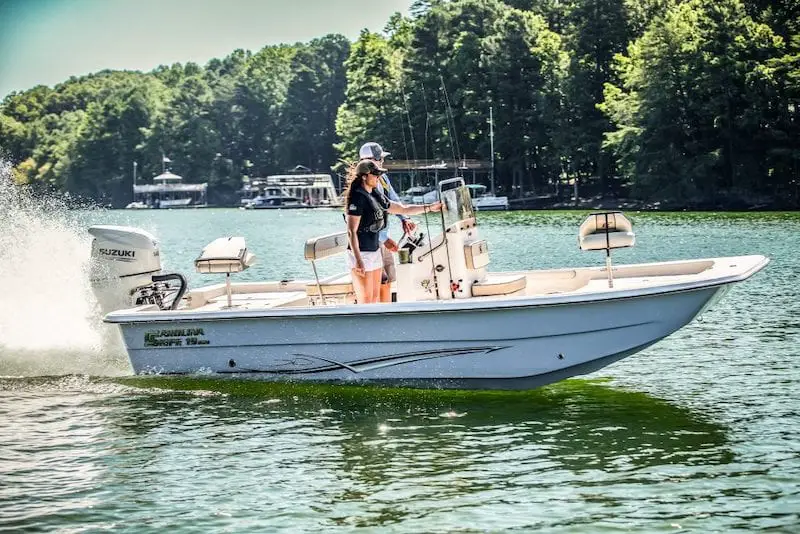 CAROLINA SKIFF 19 SWS
The Carolina Skiff is another iconic brand that offers great boats at a reasonable price. Simplicity, stability, and functionality are all traits of the 19 SWS. This is also the lowest-priced boat on this list while still offering good features. I priced this boat with just about every option but I was unsure if it included a trailer or not. Regardless, the boat price was well under the threshold so adding a trailer could easily be done and still be under budget.
I utilize the service and benefits of Boat U.S.  They are a great organization that every boater should consider. You should too.  Click HERE to learn more.