Holiday Inn Express Beach
Juno Beach, FL
When I visit the Jupiter area my "go to" place to stay is the Holiday Inn Express in Juno Beach.  I stay there because the rates are reasonable, the rooms are nice (from many you can hear the sound of the surf) and the location is great!  One of the best parts is that I can walk to a great beach that's never crowded.
THAT BEACH!
To access the beach you'll have to walk down a ramp from the property onto a sidewalk on Donald Ross Rd.  From there, it's a short, one-block walk, to the beach.  The beach access has a shower and a set of stairs leading to the beach.  It's covered in a canopy of sea grapes giving the beach a tropical feel.  The sand is brown and granular and the water is so nice. In fact, the water in this are of Florida can get Bahamas-like — especially, in the spring and summer!
THIS WAS A FUN DAY TRIP BY BOAT!
CONVENIENT LOCATION
Another great thing about this location is the proximity to great restaurants.  Across the street is a great place for breakfast and lunch called the "Juno Beach Cafe".  Another restaurant that's good is the "Juno Beach Fish House" and it's basically, on the hotel property so you can easily walk there.  Across the street is a great dessert place called "Matty's Gelato Factory".  So good!  Finally, my favorite restaurant for lunch or a casual dinner is "Surf Taco" just to the north off US 1.
BOAT FRIENDLY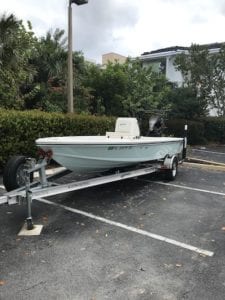 I stayed here in April for spring break with the family.  I brought the Hewes over and kept it in the parking lot.  I launched at Burt Reynolds Park, kept the boat at the U-Tiki dock and kept the trailer at the hotel for our three-day stay.  The hotel had plenty of space in the back of the parking lot and the security seemed fine.  It was a great experience and I'd recommend it to anyone who wants to do the same.  
HERE'S A GREAT WEBSITE TO FIND HOTELS
If you're looking to visit the beautiful, Jupiter, FL area then make sure to check out the Holiday Inn Express in Juno Beach and visit its beach at the end of the street.  It's a great lazy location and a hidden gem!
BEACH INFO
LAT/LONG:
26.88'15"N 80.05'31"W
SETTING:
Small Town/Small Condos/Lush Foliage
SAND:
Dark Brown, Soft
PARKING:
None at Beach but Plenty at Hotel
SHOWERS:
Yes
BATHROOMS:
No (at Hotel)
STAIRS:
Yes
PICNIC AREA:
No
WAVES:
Ocean/Can Get Rough
WALKING DISTANCE TO BEACH:
One Block (1/10 mile)
LIFEGUARDS:
No
WATER CLARITY:
Beautiful/Very Clear
RESTAURANTS NEARBY:
Juno Beach Cafe (breakfast & lunch), Juno Beach Fish House (dinner), Surf Taco (lunch & dinner), Matty's Gelato Factory (dessert)
NEARBY HOTELS:
Holiday Inn Express Of Course!
Click on the 360 Video below for an immersive look at this location
If using a mobile device use the YouTube app for the optimal experience