Cabbage Key is an island located in Charlotte Harbor and probably my favorite place for lunch when I'm in the area.  It's south of Boca Grande, east of Cayo Costa and located at marker "60" on the intracoastal waterway.  It's the most visited spot in the area hands-down!  It can only be accessed by boat or ferry and it's famous for it's fabulous, "old-Florida" restaurant.  Supposedly, it was the inspiration for Jimmy Buffett's song, "Cheeserburger in Paradise".
THE ISLAND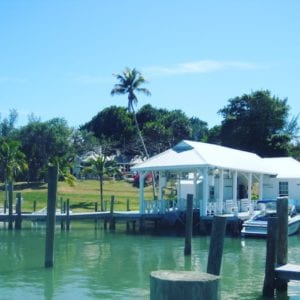 Cabbage Key consists of 100 acres of "Old Florida".  The Inn is built on an Indian shell mound that dates back to the 1800's.  Here, you can walk nature trails, see abundant wildlife, enjoy world-class fishing, stay in cozy cabins and spend time at the iconic bar and restaurant. You can even "shower with a friend"!  The Inn has been around since the 1930's and has had a few owners and entertained many characters. I can still remember Terry the dock master from the late 90's.  It's an amazing place to visit and truthfully, one of my favorite places in all of Florida! 
SPEND THE DAY HERE WHEN VISITING CABBAGE KEY
THE RESTAURANT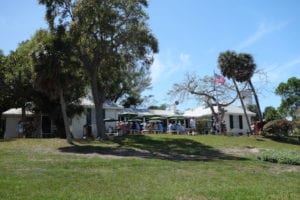 The restaurant is a historic Inn that offers a full menu of delicious food.  Breakfast, lunch and dinner are served. Their specialties consist of cheeseburgers, shrimp cocktail, black beans & rice, clam chowder, stone crab and frozen key lime pie for dessert.  That being said, one thing you won't find is fried food.  That is because they can't risk a fire being that they're on an island.  It's also worth noting that it's one check per table and no pets are allowed on the island.  You can find detailed dining info HERE.
MORE CREEPERS PLEASE!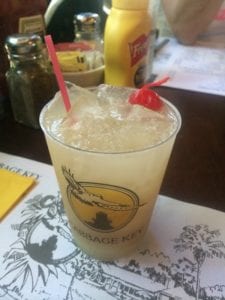 Cabbage Key is also famous for their tropical drink, the "Cabbage Creeper".  It consists of pina colada mix, rum and a coffee liqueur floater.  It's so good!  However, be warned because they will creep up on you.  Hence, the name.
DOLLAR BILLS EVERYWHERE!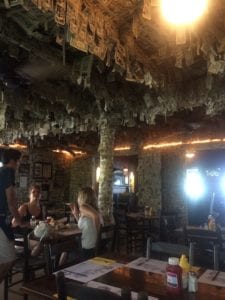 A favorite pastime at Cabbage Key is to write your name on a dollar bill and tape it on the wall.  It's become so popular through the years that I've heard they report tens of thousands of dollar bills annually to the IRS!  It's a pretty cool thing to see and it really contributes to the overall charm of the ambiance.  
YOU CAN RENT COTTAGES TOO!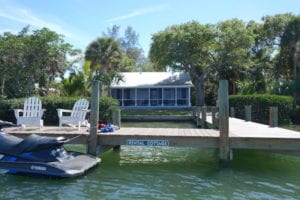 The Inn houses six rooms for rent as well as eight separate cottages.  They are super-quaint and charming and are perfect for escaping the business of everyday life.  More information on the accommodations can be found HERE.
HOW TO GET HERE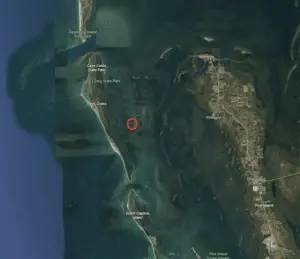 There are numerous ways to visit Cabbage Key but the most popular is by private boat.  To get here, travel south on the ICW (south of Boca Grande) or north from Captiva Island until you get to marker "60".  The island is well marked and is to the west of the channel.  The other ways to visit the island can be found HERE.
CLICK HERE FOR THE BEST BOAT RAMP TO USE FOR THIS AREA
I utilize the service and benefits of Boat U.S.  They are a great organization that every boater should consider. You should too.  Click HERE to learn more.