The Classic Boston Whaler Montauk is the most popular boat that Boston Whaler has ever built.  In this post I review the Montauk I've had since I was 16 years old.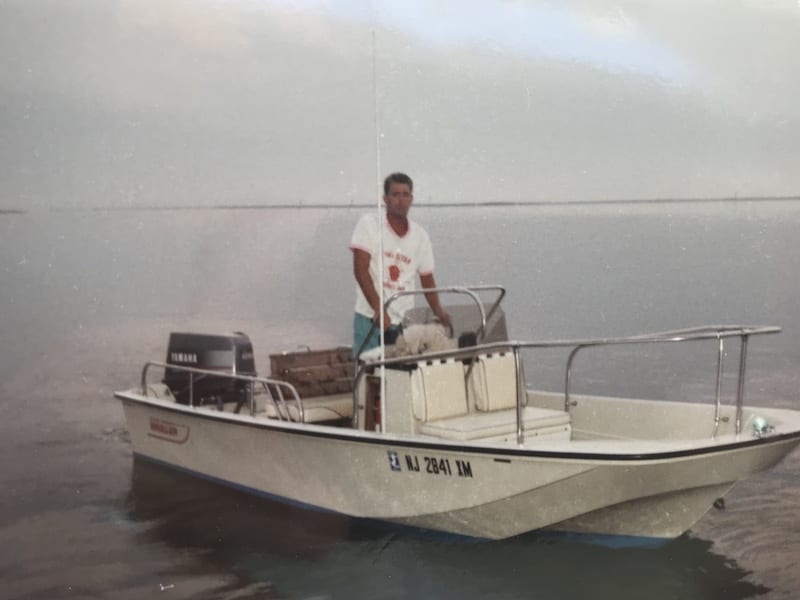 MODEL INFO
The "Classic" Montauk is defined as any model built between 1976 and 1998.  After 1998 Montauk's were still built but certain features lost their classic feel (i.e. design, teak, hull color, rub rail, choice of power, etc.).
What makes these boats so appealing, especially today, is their simplicity, beauty, functionality and affordability. Plus, no other boat brings back childhood memories of freedom and enjoyment like a Classic Whaler.
THE BEST CLASSIC BOSTON WHALERS TO BUY USED
SIMPLICITY
The Classic Boston Whaler Montauk is simple because, unlike most modern boats today, the Montauk doesn't have lots of bells and whistles and breakable parts. Here, you won't find features like hydraulic steering, bilge pumps, numerous through hulls, etc.  As a result, you have much less to maintain and, when it comes to boats, less is more.
ADVANTAGES
Unsinkable
Easily Trailerable
Easy to Store
Very stable
Dry Ride
Self Bailing Hull Feature
Exterior Fuel Tanks
Reversible Pilot Seat
Versatile (water sports, fishing, cruising)
Unmatched at Holding its Value
HOW TO DRIVE A BOAT WITH CONFIDENCE (ONLINE COURSE)
DISADVANTAGES
Hard Ride in Certain Conditions
Problematic Bow Rail
Lack of Storage
Lack of Standard Seating
VIDEO REVIEW
SPECS
Length: 16 '7″
Beam: 6′ 2″
Draft: 9″
Weight (hull only): 900lbs
Max Persons Capacity: 7
Max HP: 100
Min HP: 35
Transom Height: 20″
HISTORY OF MY MONTAUK
It was Christmas Day in 1985 when I learned that our family was buying a new Boston Whaler Montauk. For the previous 7 years, my twin brother and I pestered Whaler dealers, read catalogs and dreamed of one day owning our own "Whaler".  When my dad bought a summer home in Barnegat Light on Long Beach Island in January of 1995, our first boat was a rowboat.  We rowed that thing everywhere and had to "earn" the Whaler in my dad's mind.  We picked up the boat in the Spring at the local Boston Whaler dealer, Hance & Smythe.  It was a day I'll never forget and the start of a long boating history.
Consider Boat U.S. for your boating needs.  They are a great organization that provides numerous resources to improve your life on the water AND trailering your boat.  Click HERE for more information.