Hand feeding huge fish is a fun thing to do and Florida has some of the best marinas to do it.  If you're interested in doing this yourself, below are the best ones to visit.
ROBBIE'S (Islamorada)
No doubt, Robbie's is the most famous marina for feeding huge fish.  Here you'll find a combination of Tarpon, Jack's and Snapper however, it's the Tarpon that get all the attention.  The Tarpon at Robbie's are some of the biggest I've ever seen.  It's common to see lots of fish over 100lbs with some over 150lbs!
Unfortunately, ever since Robbie's was rebuilt due to Hurricane Irma, the experience isn't the same in my opinion.  Instead of one open dock that used to exist, today's dock consists of three separate feeding stations covered with a rope net.  Clearly, the design is to accommodate more people while trying to control the birds, but it's a big distraction to the experience and the pelicans are more aggressive than ever.  The good old days of hand feeding huge Tarpon from the open dock was the best however, the Tarpon are still the same and definitely worth a visit.
SAILFISH MARINA (Palm Beach Shores)
Located just inside Palm Beach Inlet is Sailfish Marina.  Aside from its' numerous amenities, the marina is home to some spectacular sportfish yachts floating in crystal-clear water.  Swimming in that water are some of the largest Jack Crevalle ("Jack's") that I've ever seen.  In order to feed the fish you'll have to buy some bait or fish food at the marina store. If you're in the Palm Beach area and want to do something fun with the kids, hand feeding huge fish at Sailfish Marina should be on your list.
HERE'S AN AMAZING PLACE TO VISIT NEXT TO SAILFISH MARINA
WORLD WIDE SPORTSMAN (Islamorada)
Probably the most visited tourist attraction in Islamorada is World Wide Sportsman and its' sister operation, the Islamorada Fish Company restaurant.  Within this picturesque property you'll find lots of huge Tarpon.  One area is under the backcountry guide dock and the other is in the basin at the restaurant.  In addition, the staff feeds the Tarpon regularly and let's patrons join in.  Visiting World Wide Sportsman is an absolute must and seeing and feeding the huge fish here is a definite highlight.
SUNSET MARINA (Key West)
Just about every marina in Key West holds huge fish. However, not every marina has the variety like Sunset Marina.  Here, you'll find loads of huge Tarpon, Jacks, Sharks and even a couple of Goliath Grouper.  Hand feed them yourself or watch them feed as the guides clean their catch.
15th STREET FISHERIES (Ft. Lauderdale)
15th Street Fisheries is a restaurant and marina in downtown Ft. Lauderdale.  Under the floating dock are huge Tarpon and Jack's and you can feed them with fish food or bait purchased at the bait shop. In addition to the great food and atmosphere, it's one of the most amazing places to see spectacular boats.  If you're in the Downtown Ft. Lauderdale area, hand feeding huge fish at the 15th st Fisheries is a great place to visit.
STUMP PASS (Englewood)
Stump Pass is the gateway to some of the most beautiful islands on the Gulf Coast of Florida.  In addition to having a great restaurant and amenities, Stump Pass also has some of the largest Snook I've ever seen.  Simply buy some bait and feed as many of them as you like.  Kids go crazy at this place!
CLICK HERE TO LEARN ABOUT THE BEST FLORIDA BEACHES FOR CRYSTAL CLEAR WATER
GULF HARBOR MARINA (Nokomis)
Located on the inside of Venice Inlet, Gulf Harbor Marina is a busy place for boaters fueling up and getting bait.  Under the bait tanks are dozens of huge Snook waiting for a handout.  Buy some extra bait and feed them to the Snook.  It's so much fun!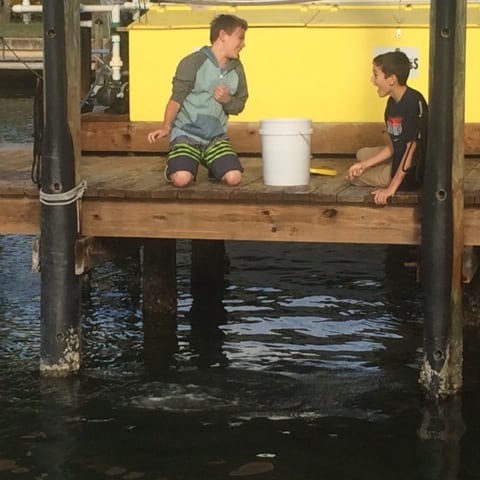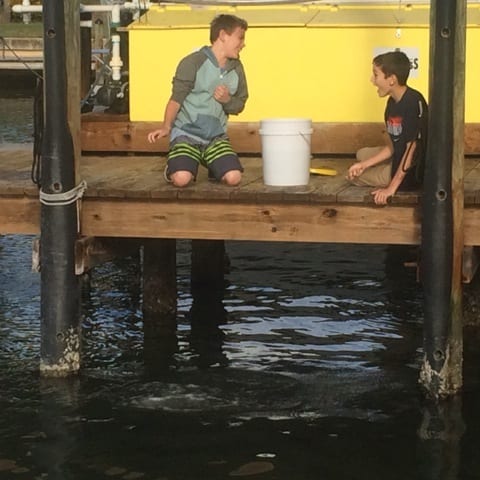 BAYSIDE MARINA (Miami)
If you're in Downtown Miami, make sure to stop Captain Jimmy's Tarpon Feeding Experience inside the Bayside Marina.  Here, you'll find lots of hungry Tarpon and a comfortable feeding environment that utilizes a padded wall and pole-mounted bait.
ELDRED'S MARINA (Placida)
Eldred's Marina is a located at the entrance to Boca Grande on the Gulf Coast.  This busy marina is the main hub for fishing guides, boaters and vacationers alike.  Located under the dock are lots of hungry Snook and Tarpon looking for a free handout. Buy as much bait as you like and watch the fish go crazy as they await a free meal.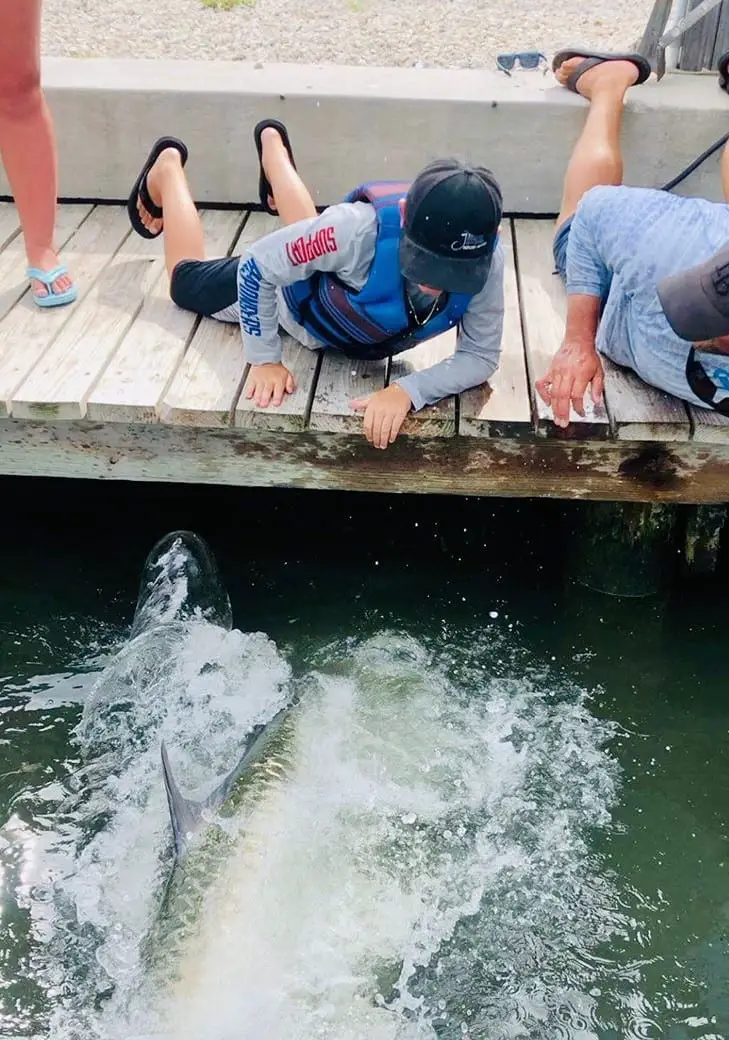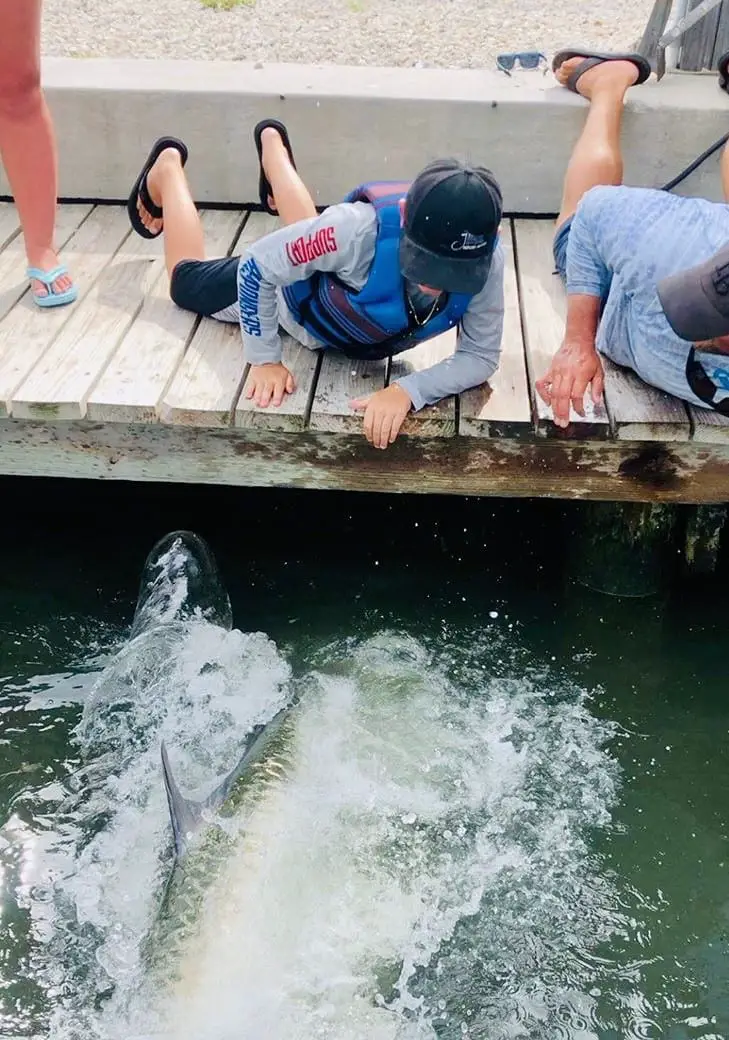 ROSE MARINA (Marco Island)
Located inside Factory Bay, Rose Marina is a robust marina that has a lot of popular amenities and is also one of two locations that is home to the Key West Express.  In addition, Rose Marina has some huge resident Tarpon. The next time you visit Marco Island make sure to visit Rose Marina.
I utilize the service and benefits of Boat U.S.  They are a great organization that every boater should consider. You should too.  Click HERE to learn more.